Our year so far has been a busy one, but a most rewarding one too, full of exhibitions, events and meetings.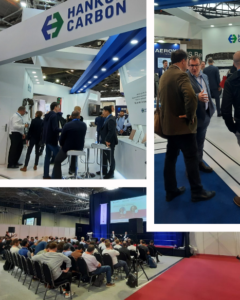 In spring our full UK team, as well our colleagues from Korea, partner companies, c2i from Slovakia and Dymag from the UK, all flew to Paris to meet at the JEC. (Our Sales Director, Paul Gallen drove there from the UK in an EV.). The show was a massive success, where we strengthened our existing relationships, made new ones and updated our view of the industry's future.
Summer found us busy attending numerous UK and German trade shows such as ICS, Cenex, Battery Cells Expo, the Future of Composites in Automotive Conference and more. We have some exceptional material solutions for EV battery system enclosures.
But there is still more to come!
We are excited to announce that we will be exhibiting at the Advanced Engineering Show on the 1st and 2nd of November. If you would like to meet us, you can come find us at our Stand no. Y162, Hall 3A.

Looking forward to seeing you there!