Follow Hankuk Carbon's latest updates
Please check out our news and videos.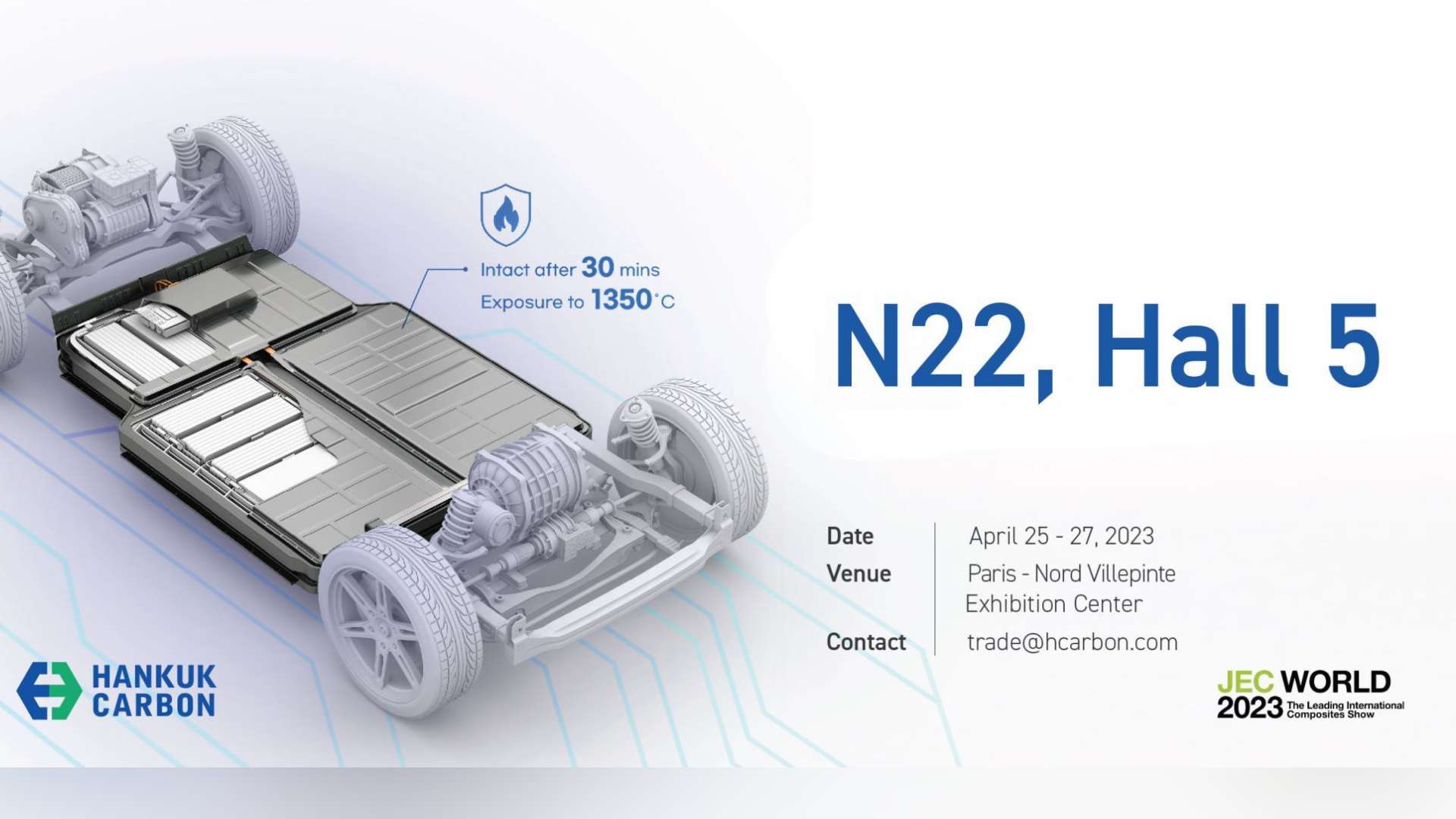 Open Invitation to JEC World Paris
JEC Paris, the biggest annual show for composites, is back in 2023 and Hankuk Composites UK is proud to announce participation.
Key players from all across composite industries will be joining the show, creating a space of unrivaled opportunities for conversations on pressing topics such as sustainability and provides the best ground for making new business contacts and network.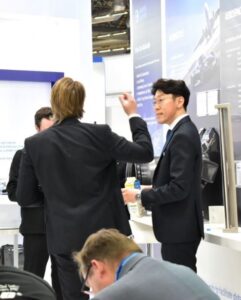 After winning the JEC Korea Innovation award in the Automotive and Road Transportation category for its fireproof glass composite for battery cases, Hankuk Carbon and Hankuk Composites UK have continued their dedication to create sustainable solutions, and will be announcing a ground breaking Recycling Project at the show.
From April 25th to 27th, you will be able to fins us in Hall 5, stand N22 at Paris Nord Villepinte. We will have a designated space for meetings, so if you know exactly when you would like to pop by just email us at paulgallen@hcarbon.com and we will book you in. Otherwise, please feel free to simply pop by and one of our team members will assist you.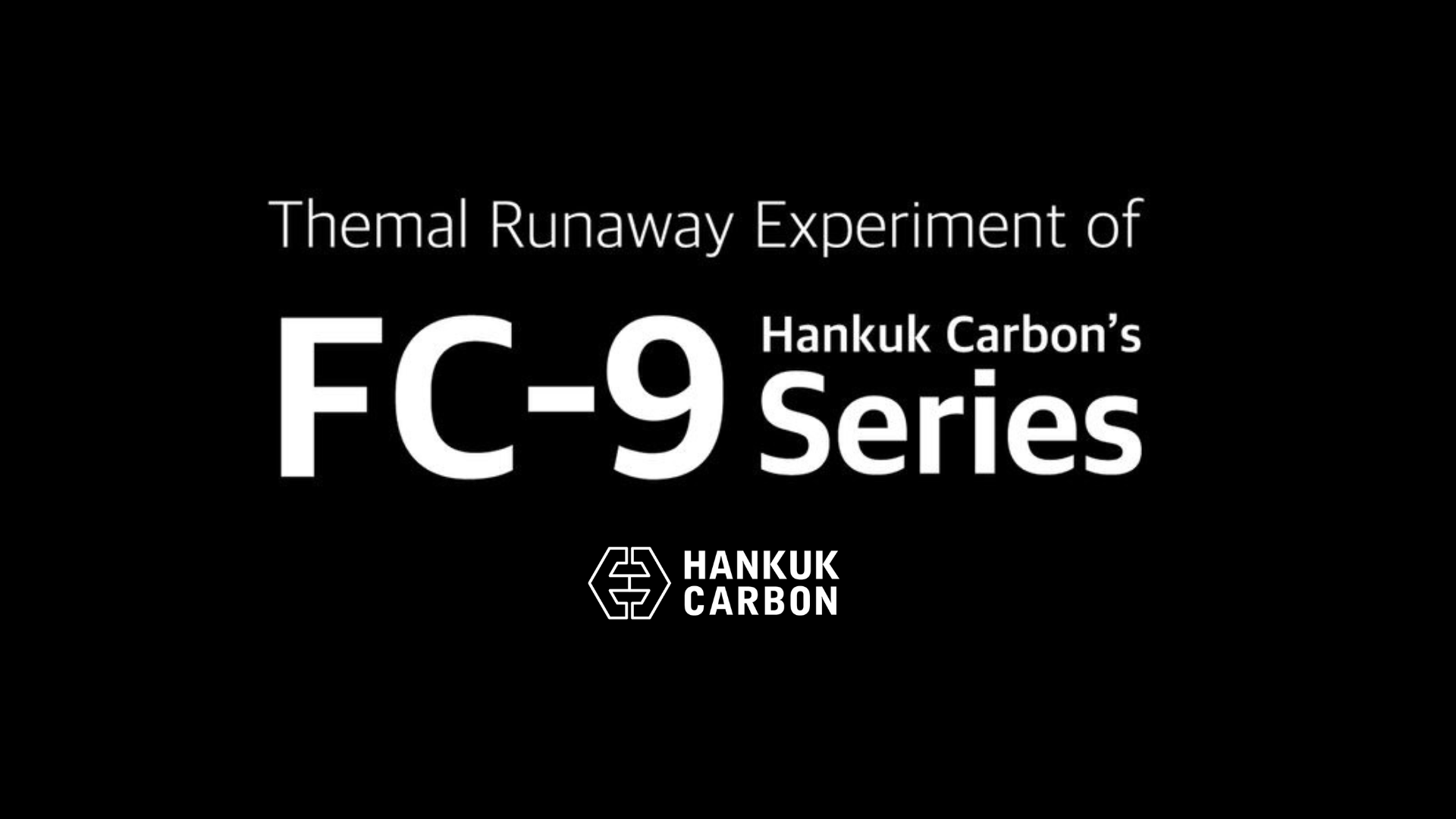 Composites Solutions for EV Cars
Whilst electric vehicle fires are rare and less frequent than those for traditional internal combustion engine cars, the fires can be dramatic and difficult to contain.
Impact damage to one or more of the many cells within the car's battery pack can cause initiation of "thermal runaway". All vehicle manufacturers provide significant physical protection to prevent this damage, but in extreme cases, such as high speed impact, damage can occur. The damage starts to overheat the cell, which then sets off a domino effect that can start a fire.
As part of preventing and mitigating serious fires, Hankuk Carbon has developed a glass-fiber based composite material that is tough, light, electrically insulating and highly fire retarded.
This new composite can remain intact for 30 minutes when exposed to 1300 degrees Celsius and thermally insulate nearby components, mitigating the spread of fire and protecting lives and property.
Hankuk Carbon has used its expertise in press mouldable epoxy resin formulation to enable our FC-9 series cures within 4 minutes, making high rate production viable.
We believe our solution offers an unrivaled combination of increased safety, functionality, design freedom and low weight within a highly cost effective solution.
This solution is also highly suited to improving the safety of battery enclosures in e-scooters, public transport and e-aviation.
*
In the video above, you can see the result of our testing of the traditionally used Aluminium plates versus the FC-9X fire retardant material developed by Hankuk Carbon.
After 33 seconds at 1,300 degrees, thermal runway fires are caused in Aluminium covers (aluminium sheet is penetrated by flame). The solution Hankuk Carbon proposes, a glass fiber flame retardant composite material, is intact even after 30 minutes of exposure to fire in the same condition as the aluminium.
If you would like to learn more about our materials, leave us a message via the contact form on our website and we will get back to you.
Hankuk Composites UK Team on the move to Birmingham
NEC Birmingham Hall 3A, Stand Y110, Advanced Engineering Show.
Who we are:
A leading Carbon Fiber intermediate materials supplier in South Korea, with factories across Asia and an increasingly strong presence in Europe.
What we do:
We produce innovative and value-added prepregs, optimised for #transportationindustry requirements.
Where to find us:
Although usually conveniently checking into our Reading office, just off the M4, on the 2nd and 3rd November you can find us at NEC Birmingham Hall 3A, Stand Y110 at the Advanced Engineering Show.
Hoping to see you there!

Hankuk Carbon partners with Forward Engineering to conduct Top Down LCA of its Carbon Fibre Prepreg
South Korea / UK / Germany, March 16th 2022
Ahead of most of its competitors, Hankuk Carbon announces today it has finished the first stage of life cycle assessment (LCA) for its carbon fiber prepreg, in order to quantify the CO₂ emissions of its materials and find solutions for a more sustainable future.
In various applications composite materials contribute to sustainability and reduce through-life carbon impact by enabling the manufacture of complex lightweight structural applications in cars, aircraft and wind-turbines, leading to longer life-cycles and less use of fossil fuels during the use phase. Upcoming recycling technologies will allow to use these materials to be effectively recovered for multiple life-cycles.
Critics can point out the higher embodied energy of carbon fibre without considering the end applications of composite materials. Efficient application designs utilising composites enable lower energy usage in the use phase and this is often significantly higher than the energy used in the manufacturing phase, especially if materials are recyclable. Hankuk Carbon has worked with Forward Engineering GmbH (Germany), a third-party expert consultant company who use the internationally recognised ISO 14040/44/67 standard as the baseline for their calculation, to conduct an overall first analysis of the carbon footprint of carbon-epoxy prepreg from cradle-to-gate.  This gave Hankuk Carbon the opportunity to identify opportunities to improve sustainability in processing and to create an action plan to do so.
Looking ahead, Hankuk Carbon plans to conduct a more detailed LCA for its carbon fibre prepreg as well as liaise with its raw material suppliers and end customers to help appraise and reduce not only its own carbon footprint, but the overall footprint in its materials and applications. Furthermore, Hankuk Carbon is looking into forming strategic partnerships with carbon re-cycling companies to facilitate collaboration between its end customers across the supply chain to further reduce carbon footprint of composite components.
About Hankuk Carbon
Hankuk Carbon is the largest producer of composite intermediates in the South Korea. With over 35 years' experience of manufacturing composite Prepregs and multi-functional laminated systems, Hankuk Carbon delivers a wide range of innovative, multi-functional 'Composite, All at once' solutions for Automotive, Aerospace, Energy, Shipbuilding, Construction, Sports and Defence industries.
Hankuk Composite UK has been part of the Hankuk Carbon Group since 2020 and represents the business across Europe, with applications engineering and sales support. The move comes as part of a commitment from Hankuk Carbon to strengthen links with automotive OEMs in Europe, and to develop deeper connections with sports, leisure and industrial markets.
About Forward Engineering
Forward Engineering (FE) is a Global Engineering and Consulting Firm based in Munich, Germany with offices and representation in Japan, China and the US, that specialize in holistic and sustainable product development employing the latest proven and emerging materials and manufacturing process technologies.
Glass composite material for EV battery case
Hankuk Carbon has developed an Epoxy Glass Prepreg, with fast curing resin (4 mins / 150℃) dedicated to mass production. Therefore, it is possible to apply prepreg compression molding (PCM) technology that uses the press method. Moreover it turns out that this material is suitable for all the components using sheet molding methods. Particularly, the material is suitable for producing EV battery case that requires flame retardancy with the UL-94 V0 Grade. Specifically, it can be applied to battery cover as well as to the lower part tray of battery where high mechanical properties are required. In addition, it features similar mechanical properties as carbon fabric and lowcost material compared to carbon fabric