Follow Hankuk Carbon's latest updates
Please check out our news and videos.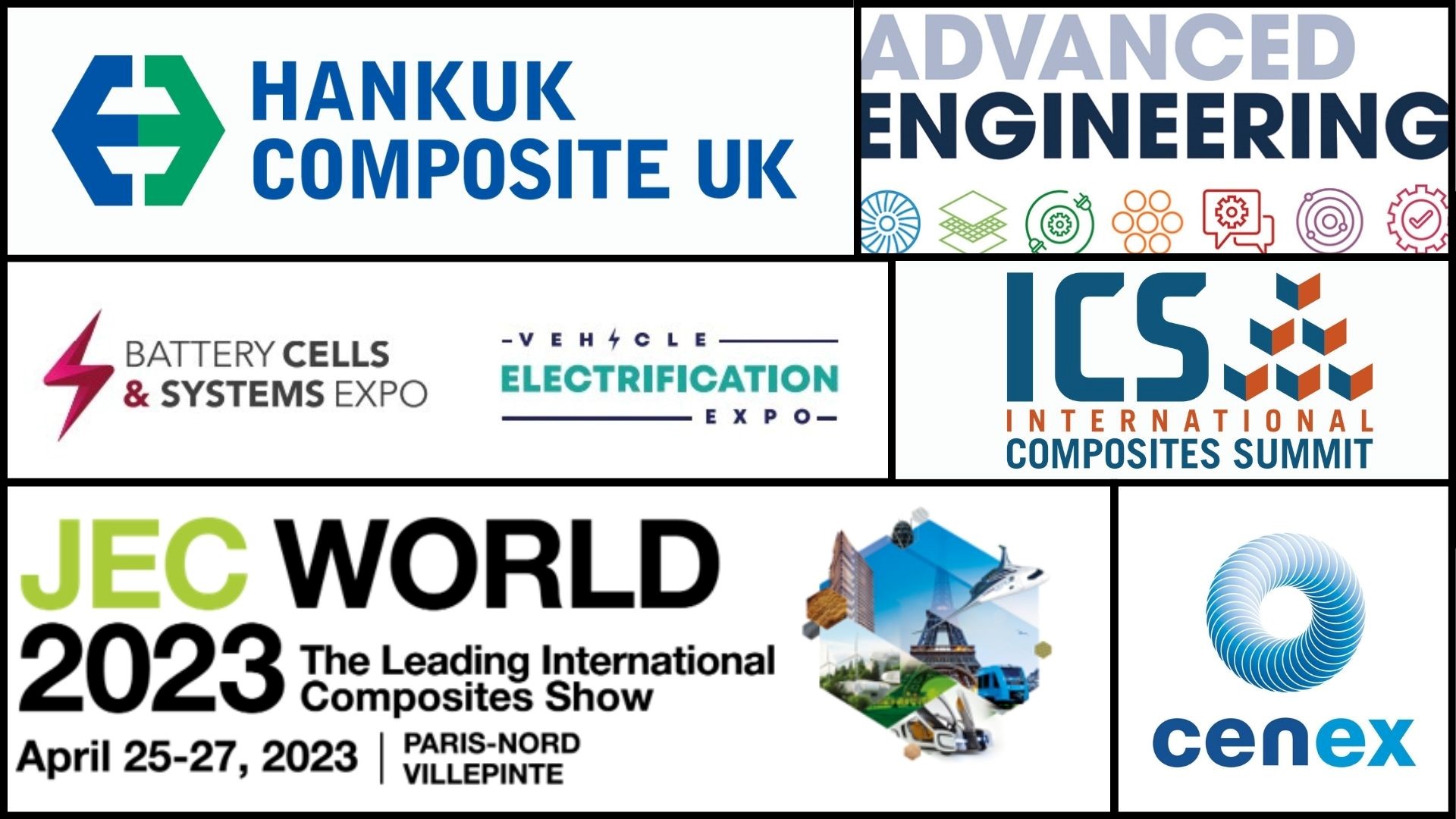 WE WILL BE EXHIBITING AT THE ADVANCED ENGINEERING SHOW!
Our year so far has been a busy one, but a most rewarding one too, full of exhibitions, events and meetings.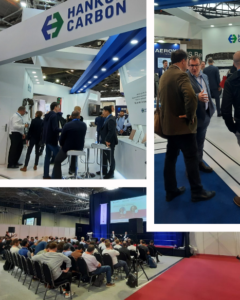 In spring our full UK team, as well our colleagues from Korea, partner companies, c2i from Slovakia and Dymag from the UK, all flew to Paris to meet at the JEC. (Our Sales Director, Paul Gallen drove there from the UK in an EV.). The show was a massive success, where we strengthened our existing relationships, made new ones and updated our view of the industry's future.
Summer found us busy attending numerous UK and German trade shows such as ICS, Cenex, Battery Cells Expo, the Future of Composites in Automotive Conference and more. We have some exceptional material solutions for EV battery system enclosures.
But there is still more to come!
We are excited to announce that we will be exhibiting at the Advanced Engineering Show on the 1st and 2nd of November. If you would like to meet us, you can come find us at our Stand no. Y162, Hall 3A.

Looking forward to seeing you there!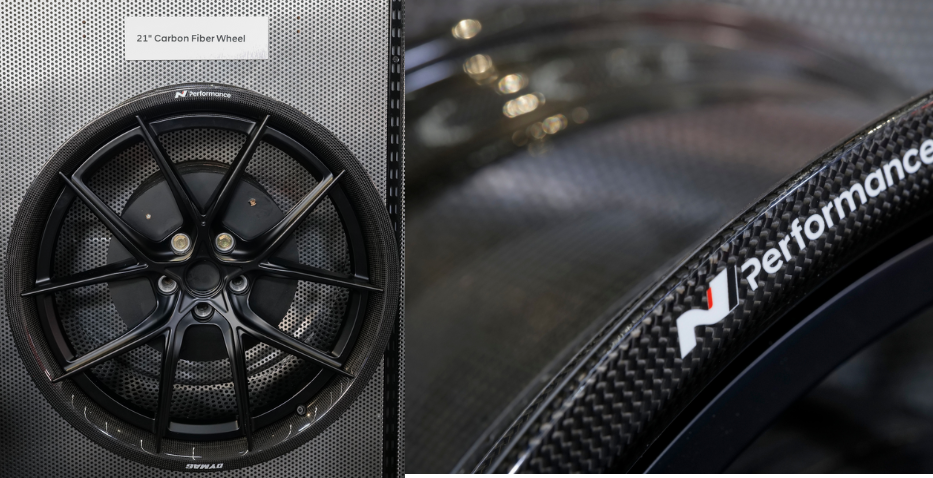 DYMAG AND HANKUK CARBON JOIN FORCES WITH HYUNDAI ON LIGHTWEIGHT CARBON HYBRID WHEELS FOR N PERFORMANCE PRODUCTS
Wiltshire, 27th July 2023: Dymag, a world leader in lightweight wheels for the automotive industry, and its strategic partner, composites material specialists Hankuk Carbon, are working with Hyundai on the development of advanced new carbon hybrid wheel technology for the car maker's N Performance products.
The first result of the collaboration between Dymag and Hankuk Carbon, the new wheel technology further cements Dymag's position as a leading OEM partner for the global automotive industry, and marks the start of a relationship with Hyundai, enabling the wider adoption of Dymag's cutting edge innovation, which delivers significant dynamic enhancements for high-performance vehicles.
A prototype of a new jointly-developed N Performance carbon hybrid wheel was unveiled on Hyundai's stand at the recent Goodwood Festival of Speed, where the company also debuted its IONIQ 5 N hot crossover.
Bespoke designed and developed with Hyundai, full specifications of the new wheel will be revealed in the coming months. Dymag is also in advanced stages with multiple car makers, with further original equipment supply agreements set to be announced soon.
Blending a composite outer rim, made from carbon fibre, with a precision-machined forged metallic centrepiece, Dymag's proprietary carbon hybrid wheel expertise realises the best of both materials, with weight savings over a traditional cast aluminium wheel of between 40% and 50%. In addition to significantly reduced unsprung mass, carbon hybrid wheel technology also reduces rolling inertia and offers improved stiffness and strength.
Tom de Lange, CEO of Dymag said: "We are delighted we are working with Hyundai on the development of advanced, lightweight carbon hybrid wheels for its N Performance products. The first result of the collaboration between Dymag and Hankuk Carbon, the new wheel technology further cements Dymag's position as a leading OEM partner for the global automotive industry.
"This is the start of what we hope is a long and fruitful relationship with Hyundai, which will bring our game-changing technology to a wider audience of global automotive customers. Carbon hybrid wheels from Dymag bring many benefits for high-performance vehicles, with very low capital expenditure for car makers thanks to our patented technology and lean production methods. We look forward to announcing further OEM agreements very soon."  
Hankuk Carbon Chairman Mr. Moonsoo Cho said: "We are very excited by this great starting point of our relationship with Dymag. Working with Hyundai makes us all very proud and will bring Dymag's carbon hybrid wheel technology, which offers significant performance – and aesthetic – benefits to high-performance vehicles, to a wider audience. Our collaboration with Dymag will continuously grow to meet and exceed the requirements of our global automotive partners."
Leading advanced wheel design since 1974, Dymag has unrivalled heritage and was the first in the world to commercialise carbon hybrid automotive wheels in 2004. Designed for high-performance vehicles, from sports cars to SUVs and pickups, the patented carbon hybrid wheel delivers multiple gains for OEMs, the aftermarket and customers alike.
In addition to lower unsprung mass and inertia, gyroscopic force is also reduced, improving steering feel and handling.
Strength and durability are also improved over equivalent alloy wheels or full carbon wheel, a carbon hybrid wheel enhance safety by offering the ability to bend and spring back in the event of an unusually high load or sharp impact – in contrast to one-piece aluminium wheels which can permanently deform or shatter. Dymag's unique designs are also proven and tested to all worldwide OEM standards. What's more, carbon fibre's inherent harmonic characteristics also reduce Noise Vehicle Harshness (NVH).
Carbon hybrid wheels also bring aesthetic advantages for OEMs compared to one-piece carbon fibre wheels; a forged aluminium or magnesium centrepiece offering greater design flexibility than a solid carbon fibre wheel, which can be changed without incurring expensive re-tooling costs. The carbon rims themselves also require low upfront investment and new sizes can be produced very quickly due to Dymag's patented design and production techniques.
Dymag offers a full range of 18-to-23-inch carbon hybrid wheels, to which it will add new 24-inch and 25-inch examples later this year. Key investment into Dymag comes from strategic partner, Hankuk Carbon, a leading manufacturer of advanced carbon materials.
Its investment and expertise is accelerating the global mass production of Dymag's wheel technology, and the company is in advanced stages with multiple global OEMs regarding further lightweight wheel supply agreements.
ENDS
Media contact:
E: samh@influenceassociates.com
T: +44 7815 863 968
Hi-res media images: https://bit.ly/Dymag_Hyundai_
Notes to Editors
About Dymag Group Ltd
Dymag Group Ltd, is a privately-owned business, specialised in the design, development and manufacture of lightweight wheels for performance cars and motorcycles. With close to 50 years heritage in developing cutting-edge wheel technologies for the road and elite motorsport, the business has used this know-how to become the leading manufacturer of carbon hybrid wheels in the aftermarket segment for luxury and high-performance road and track cars and motorcycles.
About Hankuk Carbon Co Ltd
Hankuk Carbon Co Ltd, is a publicly owned business listed on the Korean KOSPI
stock-exchange, with a current market capitalisation of $399M, and is specialised in the manufacture of advanced innovative composite intermediate materials and solutions with over 38 years' experience. The business has revenues of circa $311M pa and is active in many industrial sectors, including energy, transportation, construction and consumer goods.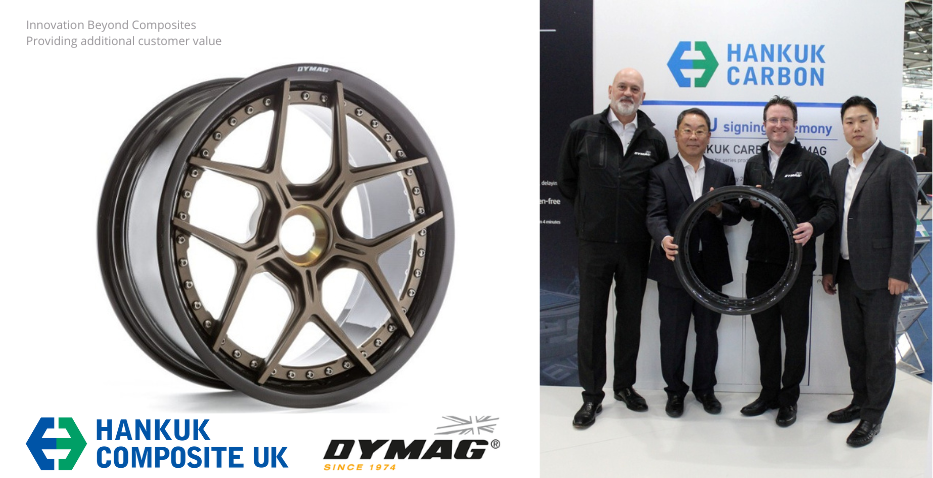 Hankuk Carbon invests in Dymag carbon lightweight wheels, prospect to scale up
LONDON, APRIL 2023: South Korean company Hankuk Carbon, manufacturers of advanced carbon materials, has invested in Dymag Group Ltd, a leader in lightweight wheels for the automotive industry.
Hankuk Carbon is the leading manufacturer of composite intermediate materials and the first manufacturer to commercialise carbon prepreg in South Korea, in 1984. Though innovation, it has developed materials that are used in various industries such as construction, ship building, automotive and defence.
Dymag is a leading British manufacturer of carbon hybrid wheels in the aftermarket segment for luxury and high-performance road and track cars and motorcycles.
The investment will bring the two companies closer in their common aim of scaling up production of cost effective, sustainable and lightweight hybrid wheels.
Tom de Lange, CEO of Dymag said: "Lightweight carbon hybrid wheels bring a vast array of benefits for vehicles – particularly EVs – with no development costs. Thanks to new investment from Hankuk Carbon, combined with the funding we have already received from the UK government and Puma Private Equity, we are now entering the next exciting phase in our journey, bringing our game-changing lightweight wheel technology to a wider audience of global automotive customers."
Moonsoo Cho, chairman of Hankuk Carbon Group said: "The core objective of our strategic partnership with Dymag has always been to accelerate the growth in the global market potential for high performance carbon hybrid wheels. Building on our existing relationship, we have now become a strategic investor in Dymag, and with this investment we will be further leveraging Hankuk's expertise in composite materials and industrialisation to automotive customers around the world."
Lighter, stiffer and stronger than a traditional cast alloy wheel, Dymag's carbon hybrid wheels bring huge advantages to all vehicle sectors, particularly electric vehicles.
Designed for high-performance vehicles, from sports cars to SUVs and pickups, the patented carbon hybrid wheel, which combine a carbon outer rim with a forged aluminium or magnesium centrepiece, delivers multiple gains for OEMs, the aftermarket and customers alike.
It is 40% lighter than a traditional cast alloy wheel, strength and durability are greatly improved, has potential to enhance EV range by around five percent, can reduce Noise Vehicle Harshness (NVH) and the hybrid carbon wheel brings greater design flexibility to the table.
Dymag offers a full range of 18-to-23-inch carbon hybrid wheels, to which it will add new 24-inch and 25-inch examples later this year.
More details can be found on their websites: https://hankukcomposite.com/ & https://dymag.com/.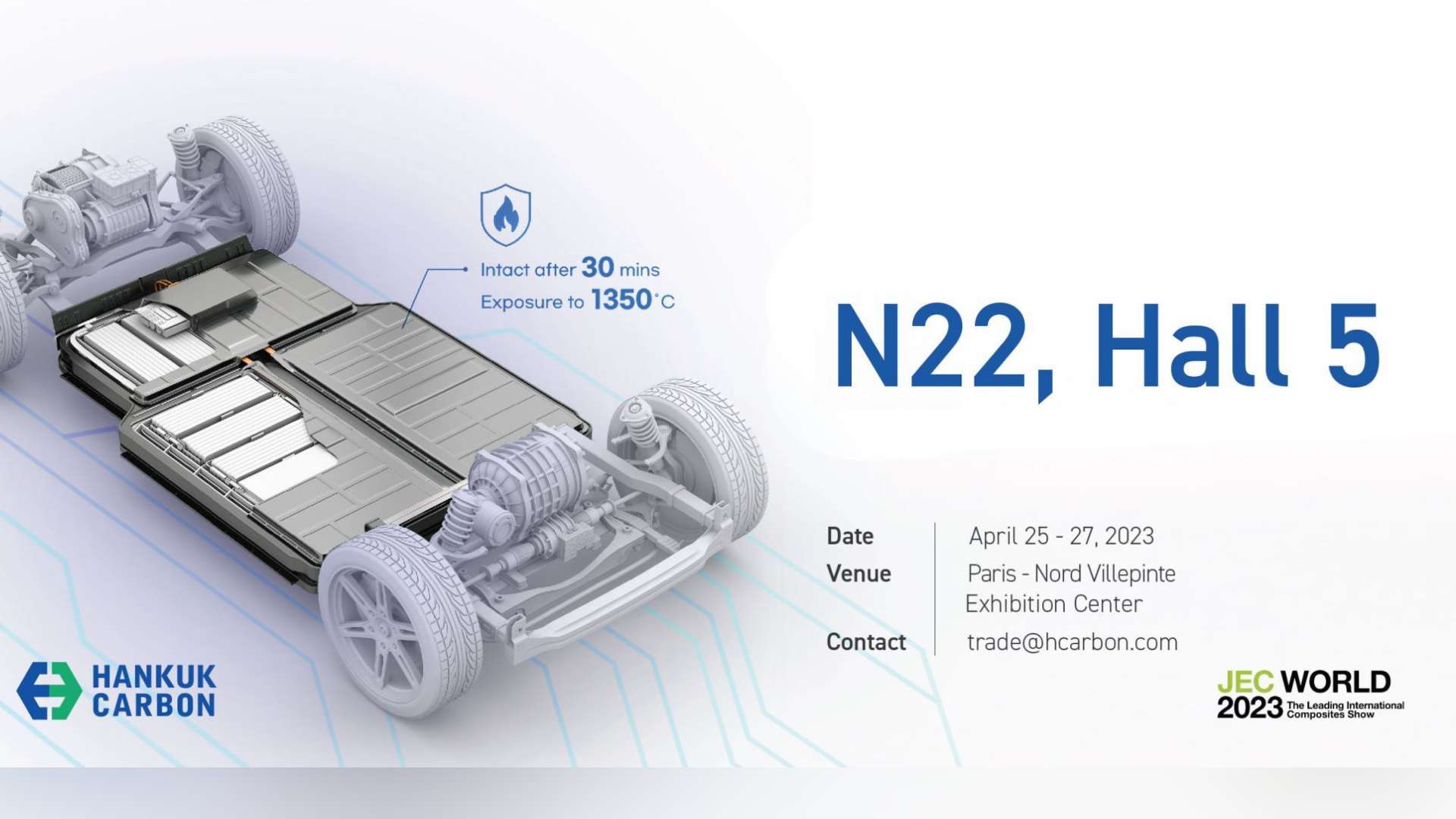 Open Invitation to JEC World Paris
JEC Paris, the biggest annual show for composites, is back in 2023 and Hankuk Composites UK is proud to announce participation.
Key players from all across composite industries will be joining the show, creating a space of unrivaled opportunities for conversations on pressing topics such as sustainability and provides the best ground for making new business contacts and network.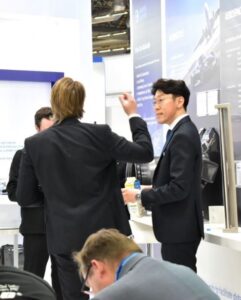 After winning the JEC Korea Innovation award in the Automotive and Road Transportation category for its fireproof glass composite for battery cases, Hankuk Carbon and Hankuk Composites UK have continued their dedication to create sustainable solutions, and will be announcing a ground breaking Recycling Project at the show.
From April 25th to 27th, you will be able to fins us in Hall 5, stand N22 at Paris Nord Villepinte. We will have a designated space for meetings, so if you know exactly when you would like to pop by just email us at paulgallen@hcarbon.com and we will book you in. Otherwise, please feel free to simply pop by and one of our team members will assist you.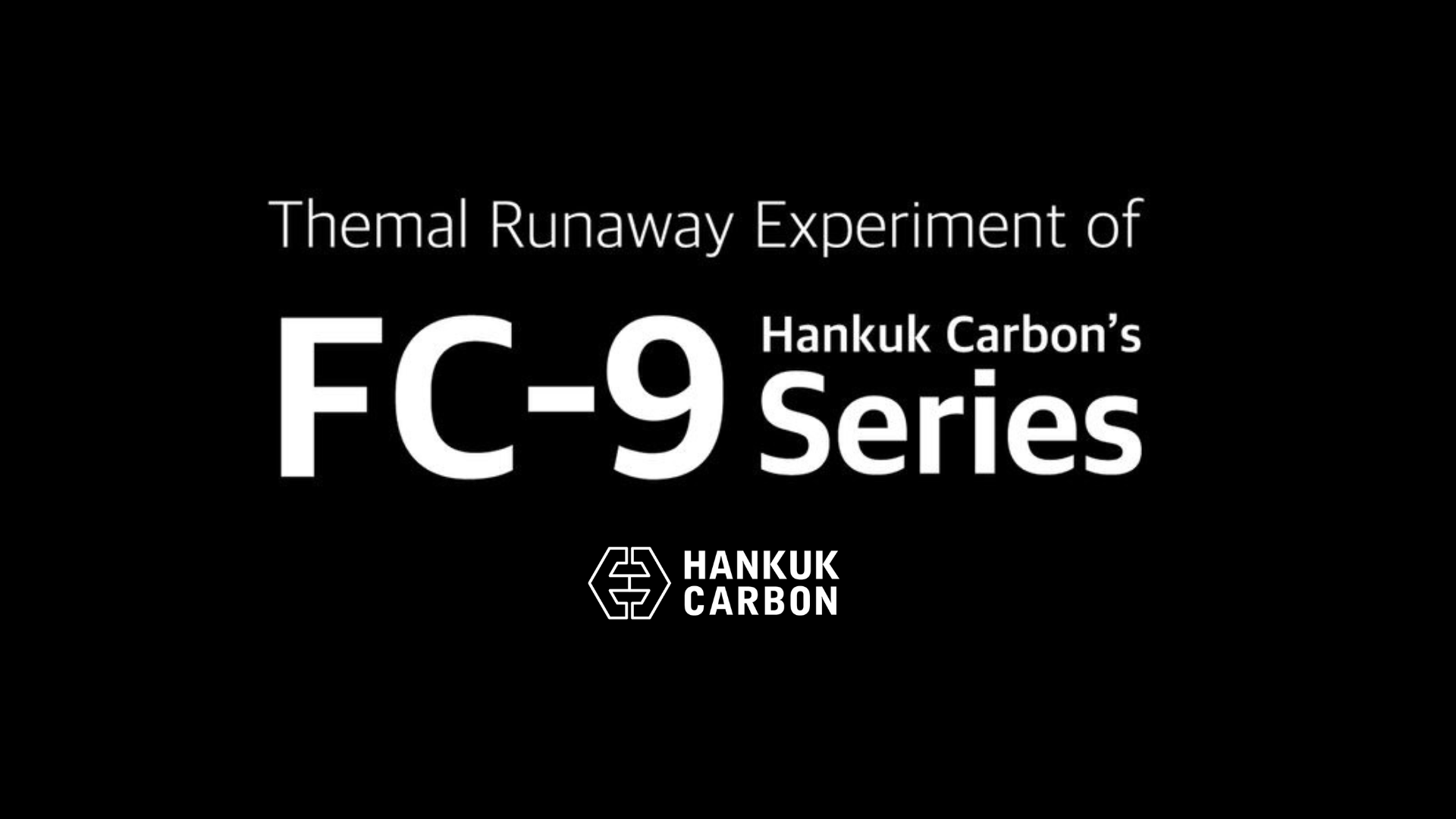 Composites Solutions for EV Cars
Whilst electric vehicle fires are rare and less frequent than those for traditional internal combustion engine cars, the fires can be dramatic and difficult to contain.
Impact damage to one or more of the many cells within the car's battery pack can cause initiation of "thermal runaway". All vehicle manufacturers provide significant physical protection to prevent this damage, but in extreme cases, such as high speed impact, damage can occur. The damage starts to overheat the cell, which then sets off a domino effect that can start a fire.
As part of preventing and mitigating serious fires, Hankuk Carbon has developed a glass-fiber based composite material that is tough, light, electrically insulating and highly fire retarded.
This new composite can remain intact for 30 minutes when exposed to 1300 degrees Celsius and thermally insulate nearby components, mitigating the spread of fire and protecting lives and property.
Hankuk Carbon has used its expertise in press mouldable epoxy resin formulation to enable our FC-9 series cures within 4 minutes, making high rate production viable.
We believe our solution offers an unrivaled combination of increased safety, functionality, design freedom and low weight within a highly cost effective solution.
This solution is also highly suited to improving the safety of battery enclosures in e-scooters, public transport and e-aviation.
*
In the video above, you can see the result of our testing of the traditionally used Aluminium plates versus the FC-9X fire retardant material developed by Hankuk Carbon.
After 33 seconds at 1,300 degrees, thermal runway fires are caused in Aluminium covers (aluminium sheet is penetrated by flame). The solution Hankuk Carbon proposes, a glass fiber flame retardant composite material, is intact even after 30 minutes of exposure to fire in the same condition as the aluminium.
If you would like to learn more about our materials, leave us a message via the contact form on our website and we will get back to you.
Hankuk Composites UK Team on the move to Birmingham
NEC Birmingham Hall 3A, Stand Y110, Advanced Engineering Show.
Who we are:
A leading Carbon Fiber intermediate materials supplier in South Korea, with factories across Asia and an increasingly strong presence in Europe.
What we do:
We produce innovative and value-added prepregs, optimised for #transportationindustry requirements.
Where to find us:
Although usually conveniently checking into our Reading office, just off the M4, on the 2nd and 3rd November you can find us at NEC Birmingham Hall 3A, Stand Y110 at the Advanced Engineering Show.
Hoping to see you there!

Hankuk Carbon partners with Forward Engineering to conduct Top Down LCA of its Carbon Fibre Prepreg
South Korea / UK / Germany, March 16th 2022
Ahead of most of its competitors, Hankuk Carbon announces today it has finished the first stage of life cycle assessment (LCA) for its carbon fiber prepreg, in order to quantify the CO₂ emissions of its materials and find solutions for a more sustainable future.
In various applications composite materials contribute to sustainability and reduce through-life carbon impact by enabling the manufacture of complex lightweight structural applications in cars, aircraft and wind-turbines, leading to longer life-cycles and less use of fossil fuels during the use phase. Upcoming recycling technologies will allow to use these materials to be effectively recovered for multiple life-cycles.
Critics can point out the higher embodied energy of carbon fibre without considering the end applications of composite materials. Efficient application designs utilising composites enable lower energy usage in the use phase and this is often significantly higher than the energy used in the manufacturing phase, especially if materials are recyclable. Hankuk Carbon has worked with Forward Engineering GmbH (Germany), a third-party expert consultant company who use the internationally recognised ISO 14040/44/67 standard as the baseline for their calculation, to conduct an overall first analysis of the carbon footprint of carbon-epoxy prepreg from cradle-to-gate.  This gave Hankuk Carbon the opportunity to identify opportunities to improve sustainability in processing and to create an action plan to do so.
Looking ahead, Hankuk Carbon plans to conduct a more detailed LCA for its carbon fibre prepreg as well as liaise with its raw material suppliers and end customers to help appraise and reduce not only its own carbon footprint, but the overall footprint in its materials and applications. Furthermore, Hankuk Carbon is looking into forming strategic partnerships with carbon re-cycling companies to facilitate collaboration between its end customers across the supply chain to further reduce carbon footprint of composite components.
About Hankuk Carbon
Hankuk Carbon is the largest producer of composite intermediates in the South Korea. With over 35 years' experience of manufacturing composite Prepregs and multi-functional laminated systems, Hankuk Carbon delivers a wide range of innovative, multi-functional 'Composite, All at once' solutions for Automotive, Aerospace, Energy, Shipbuilding, Construction, Sports and Defence industries.
Hankuk Composite UK has been part of the Hankuk Carbon Group since 2020 and represents the business across Europe, with applications engineering and sales support. The move comes as part of a commitment from Hankuk Carbon to strengthen links with automotive OEMs in Europe, and to develop deeper connections with sports, leisure and industrial markets.
About Forward Engineering
Forward Engineering (FE) is a Global Engineering and Consulting Firm based in Munich, Germany with offices and representation in Japan, China and the US, that specialize in holistic and sustainable product development employing the latest proven and emerging materials and manufacturing process technologies.
Glass composite material for EV battery case
Hankuk Carbon has developed an Epoxy Glass Prepreg, with fast curing resin (4 mins / 150℃) dedicated to mass production. Therefore, it is possible to apply prepreg compression molding (PCM) technology that uses the press method. Moreover it turns out that this material is suitable for all the components using sheet molding methods. Particularly, the material is suitable for producing EV battery case that requires flame retardancy with the UL-94 V0 Grade. Specifically, it can be applied to battery cover as well as to the lower part tray of battery where high mechanical properties are required. In addition, it features similar mechanical properties as carbon fabric and lowcost material compared to carbon fabric